Our Home Moving Services: Simplifying Your Relocation Journey
At Soon Seng Transport & Movers Pte Ltd, we understand that moving to a new home can be a daunting task. That's why we offer comprehensive home moving services designed to simplify and streamline your relocation journey. With our team of experienced professionals, state-of-the-art equipment, and commitment to customer satisfaction, we are here to ensure that your move is smooth, stress-free, successful, and safe.
What You Can Expect From Us:
Expertise and Experience You Can Rely On
When you choose our home moving services, you benefit from the expertise and experience of our highly trained team. Our professionals have extensive knowledge in handling all aspects of a move, from packing fragile items with care to navigating complex logistics. With their guidance and support, you can trust that every detail of your move will be meticulously planned and executed.
Efficient Packing and Protection
We know how important your belongings are to you, which is why we prioritize proper handling and protection throughout the moving process. Our team utilizes high-quality packing materials and techniques to safeguard your items from damage during transportation. Fragile items receive extensive care and are meticulously wrapped and secured to ensure their safety. With our meticulous approach to packing, you can have peace of mind knowing that your cherished possessions are in good hands.
Smooth Logistics and Timely Transportation
Managing the logistics of a move can be overwhelming, but our team is here to take care of every aspect for you. From coordinating transportation to planning the most efficient routes, we ensure that your belongings are transported in a timely and organized manner. Our well-maintained trucks guarantee a secure and reliable transportation process. With us, you can expect your belongings to arrive at your new home on schedule and in excellent condition.
Insurance Coverage for Added Peace of Mind
We understand the value and sentimental attachment you have to your belongings. That's why we offer comprehensive insurance coverage for the selective items being transported. In the unlikely event of damage or loss, you can rest easy knowing that you have financial protection. Your satisfaction and peace of mind are our top priorities, and our insurance coverage is an additional layer of assurance for you during the moving process.
(Required to be submitted 2 weeks in advanced)
Stress-Free and Personalized Service
Moving can be stressful, but our goal is to alleviate that burden for you. We take care of the logistics, allowing you to focus on the excitement of your new home. Our team provides personalized attention and support throughout the entire process, addressing any concerns or questions you may have. We are committed to ensuring your satisfaction and making your move a positive and memorable experience.
Important Considerations for a Successful Home Move
As exciting as moving from your old home to a new place can be, some things need to be taken into account.
Whether you are making the move down the street or across the neighborhood. Home moving consists of various details to consider:
1. Packing Your Beloved Items
Proper packing is important for a successful and damage-free move, and home moving services understand its importance. You should prioritize the protection of your belongings by employing quality packing materials and techniques. By emphasizing the significance of proper packing, it minimizes the risk of damage during transportation. Besides that, using sturdy cartons, bubble wrap, and other specialized materials to ensure the safety of delicate or fragile items.
2. Cartons Box Preparation.
Cartons box preparation is a crucial aspect of home moving services, ensuring efficient packing and unpacking during your relocation. It provides a systematic approach to preparing and labeling the boxes, optimizing the organization and categorization of your items. You can assess the items to be packed and provide sturdy and appropriately sized boxes to accommodate them securely. By labeling each box with clear and descriptive labels, you can facilitate easy identification and unpacking at your new location. This organized process saves time and effort, allowing for a smoother transition and ensuring that your belongings are safely transported and easily accessible in your new home.
3. Organizing item placement
Proper organization of items is essential for a seamless home moving experience. By strategically arranging items in the moving truck, you can optimize space utilization, reduce the risk of damage, and facilitate easier access to specific items during unpacking. By utilizing labeling and inventory systems to keep track of items throughout the transportation journey, ensuring accurate placement and minimizing the chances of misplacement or loss.

4. Protection for your valuable items and furniture, art pieces, and antiques.
You should prioritize the protection of valuable items and furniture throughout the relocation process. It takes extensive measures to ensure the safety and integrity of these items, including art pieces and antiques. This involves the use of specialized packing materials, such as sturdy cartons, bubble wrap, and foam inserts, along with expert packing techniques to provide proper cushioning and secure wrapping. You should also pay attention to detail and emphasis gentle handling resulting in the safe transportation of valuable belongings.
5. Manpower with physical labor for heavy lifting
Professional home moving services offer the necessary manpower to handle heavy lifting tasks during a relocation, ensuring safety and preventing injuries. The expertise of trained movers minimizes the risk of accidents and strains, providing peace of mind to individuals. Movers are equipped with the right tools and techniques for safe lifting, including team lifting and specialized equipment like dollies and straps. By relying on professional manpower, individuals can avoid the physical strain of moving bulky furniture and appliances themselves. The inclusion of trained movers not only ensures the safety of individuals but also protects the belongings being moved. With their assistance, the home moving process becomes more efficient and secure, allowing individuals to focus on other aspects of their relocation.

6. Unpacking and disposal of unwanted items
After the home moving, you will have carefully unpack and dispose of unwanted items during the moving process. This involves handling the unpacking of belongings, and ensuring items are placed in their designated areas. Unwanted items can be responsibly and environmentally friendly removed by donating items to charitable organizations or disposing of them in compliance with local regulations. This eliminates the need to find alternative disposal methods, making the moving process more convenient.

7. Transportation and logistics during your relocation journey
It is important to coordinate transportation logistics for a smooth and efficient move. They carefully plan and organize the logistics, considering factors such as item size, distance, and specific requirements. With well-maintained moving trucks and vehicles, movers ensure safe and efficient transportation of belongings. They possess the expertise to navigate routes, considering local traffic patterns and potential obstacles, and can adapt to any logistical challenges that may arise during the move. Their knowledge and problem-solving skills guarantee timely delivery and minimize disruptions. By entrusting transportation logistics to professional movers, you can have peace of mind, knowing that your belongings will be transported securely and arrive at the new location on schedule.
Soon Seng Transport & Movers Pte Ltd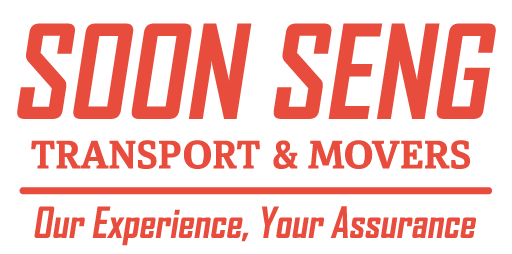 With over three decades of experience, we are a well-established and highly skilled moving company in Singapore. Since our establishment in 1990, we have gained extensive expertise in handling the safe transportation and storage of your valuable belongings.
Alongside our professional relocation services, we offer both long-term and short-term storage solutions at our dedicated facility located at Hillview Terrace. The security and protection of your assets are our utmost concern. Our storage facility is equipped with round-the-clock security measures, ensuring a safe and secure environment for your household, office, commercial, and industrial items. With tightly controlled access, our facility is designed to meet the highest standards of security and safeguarding.
For any inquiries or questions about Furniture Disposal Services, please don't hesitate to contact us. Our team is ready to assist you and provide the information you need.
Team John. Very punctual and efficient move! The entire team was well-coordinated, happy and friendly, helping us to complete the whole move in 3 hours! Would highly recommend for their great service😁
Terrence & JH team are the best. Very casual and fun moving yet fast and professional. Making moving less stressful. Thank you team! The office team (I think it was Jessie) also very professional and helpful. Thanks Soon Seng! Definitely will contact again if I need moving or disposal.
Fantastic service in every thing. Everything are neatly packed and arranged.
We used Soon Seng for our move from our HDB to our in laws home. The whatsapp response time was great and the on site survey of our items was done swiftly. On the actual day of the move, John, the team leader, executed the move very efficiently and safely. He exhibited fantastic leadership skills in organising his team for the move. The team, from start to finish (and unloading at the destination), took about 3 hours. The team was very professional, and had great attitude. All our items, including a piano, were packaged well, and shifted safely. We will highly recommend Soon Seng and John's team to anyone who is looking for movers. We will definitely use their services again when we next move!
Team of Peter, really good and professional. Even dismantle and reassemble furniture and wrapped with protection. No extra hidden cost, also assist to deliver dinner table that require dismantling and assemble to 2 locations. Peace of mind. Strongly recommended.👍
Team John is the best!!! They have the superb Service!!!
Kudos to Team Ryan & Terrence! Super fast and efficient teamwork! Moving done within a morning!
Amazing moving company. Shout out to Jolene and Jessie for being amazing at coordinating the move. Team XM for being so professional, punctual and reliable.
Thank you Team John! Professional and super efficient and fast, recommended!!!
Fiqsan Customs
2023-06-06
Super quick and careful service, no hidden charges. Very polite as well. Great service. Will use this service again in the future! Thank you for the service!
FAQ for Home Moving Services
1. How do I determine the cost of home moving services?
The cost of home moving services depends on various factors such as the distance of the move, the size of the home, the number of belongings, and additional services required. It's best to request a quote from us, providing us with relevant details to receive an accurate cost estimate.
2. How far in advance should I book home moving services?
It is recommended to book home moving services as early as possible to secure your preferred moving date. Popular moving seasons, such as summer and weekends, tend to be busier, so booking a few weeks in advance is advisable.
3. Will the home moving services provide packing materials?
Our home moving services offer packing materials as part of our service. We provide boxes, packing tape, bubble wrap, and other necessary materials to ensure the safe packing and transportation of your belongings. You can discuss the details with us beforehand.
4. How long does a home move usually take?
The duration of a home move varies based on factors such as the size of the home, the number of items, the distance to the new location, and any additional services requested. We will assess your specific requirements and provide you with an estimated timeline for the move.
5. Can home moving services handle delicate or valuable items?
Yes, our professional home moving services are equipped to handle delicate and valuable items. We use proper packing techniques and materials to ensure the safe transportation of fragile items, artwork, antiques, and other valuable possessions.
6. Can I pack my belongings myself before the move?
Yes, you can choose to pack your belongings yourself. However, our professional home moving services also offer packing services if you prefer to have experts handle the packing process. You can discuss your preferences and requirements with us to decide on the best approach for your move.