Commercial & Office Moving
Commercial & Office Moving
Commercial & Office Moving
What is Commercial & Office Moving Service?
Commercial and office moving refers to the process of relocating a business from one location to another. It involves the physical transportation of office furniture, equipment, files, and supplies to a new space. Commercial moves can range from small businesses moving within the same building to large corporations transitioning. The complexity of the move depends on various factors such as the size of the business, the number of employees, and the nature of the equipment and technology involved.
Our Commercial & Office Moving Service - What Do We Offer?
Initial Consultation and Assessment
Our commercial and office moving service begins with an initial consultation and assessment to understand your business's unique needs and requirements. We conduct a site visit to evaluate your current office space and the new location, allowing us to plan accordingly. During the consultation, we engage in a detailed discussion to understand your specific moving objectives and expectations, including timelines, budget constraints, and any special requirements. This information enables us to develop a customized moving plan that aligns with your vision, ensuring a smooth and successful transition to the new location. Through open communication and careful assessment, we aim to provide a tailored moving experience that meets your business's unique needs.
Our commercial and office moving service provides a personalized moving plan tailored to your business's needs. We offer a detailed timeline, budget estimation, and identify any specialized equipment or resources required. Our goal is to deliver a seamless and efficient office move that meets your expectations and minimizes disruptions to your operations.
Our commercial and office moving service excels in the packing and preparation phase of your move. We efficiently pack your office furniture, equipment, and supplies using high-quality materials and techniques. We ensure proper labeling and organization for easy unpacking and setup at the new location, saving you time and effort. Our team specializes in handling fragile and sensitive items, employing expert techniques and equipment to ensure their safe transportation. With our focus on efficient packing, labeling, and expert handling, we prioritize the security and streamlined transition of your belongings during the move.
Furniture and Equipment Handling
Our commercial and office moving service specializes in the careful handling of furniture and equipment during your move. We provide efficient disassembly and reassembly of office furniture and workstations, ensuring they are properly packed and reassembled at the new location. Our team takes extra care in handling heavy equipment and machinery, utilizing appropriate techniques and equipment to ensure their safe transportation. We prioritize the use of proper tools and techniques to guarantee secure handling throughout the moving process. With our expertise, you can trust that your furniture and equipment will be handled with care and arrive safely at your new office space.
On moving day, our commercial and office moving service ensure a smooth and organized process. We assign roles and responsibilities to employees or our moving team to maximize efficiency. The protection of your office spaces is a priority, and we take precautions to safeguard floors, walls, and elevators. Our team supervises the loading and unloading of trucks, ensuring secure handling and transportation of items. We conduct thorough inventory checks to verify all items and address any damages or missing items promptly. With our focus on organization and attention to detail, we strive to deliver a seamless and hassle-free moving day experience.
After the move, our commercial and office moving service takes care of essential post-move activities. We assist in setting up workstations and office spaces at the new location, ensuring a functional and organized workspace. Our service also manages the disposal of packing materials and waste, relieving you of the cleanup responsibilities. We conduct a walkthrough to address any post-move issues or concerns promptly. Additionally, we help update your business's address and contact information, ensuring a smooth transition in communication. With our focus on post-move support, we aim to ensure your satisfaction and facilitate a seamless transition into your new office space.
Soon Seng Transport & Movers Pte Ltd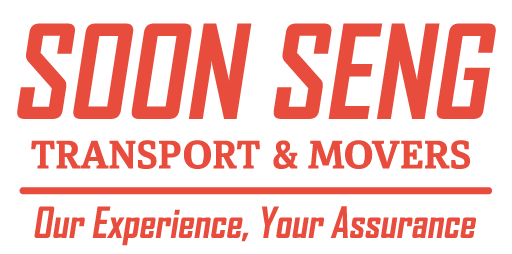 With over three decades of experience, we are a well-established and highly skilled moving company in Singapore. Since our establishment in 1990, we have gained extensive expertise in handling the safe transportation and storage of your valuable belongings.
Alongside our professional relocation services, we offer both long-term and short-term storage solutions at our dedicated facility located at Hillview Terrace. The security and protection of your assets are our utmost concern. Our storage facility is equipped with round-the-clock security measures, ensuring a safe and secure environment for your household, office, commercial, and industrial items. With tightly controlled access, our facility is designed to meet the highest standards of security and safeguarding.
For any inquiries or questions about Furniture Disposal Services, please don't hesitate to contact us. Our team is ready to assist you and provide the information you need.
Team John. Very punctual and efficient move! The entire team was well-coordinated, happy and friendly, helping us to complete the whole move in 3 hours! Would highly recommend for their great service😁
Terrence & JH team are the best. Very casual and fun moving yet fast and professional. Making moving less stressful. Thank you team! The office team (I think it was Jessie) also very professional and helpful. Thanks Soon Seng! Definitely will contact again if I need moving or disposal.
Fantastic service in every thing. Everything are neatly packed and arranged.
We used Soon Seng for our move from our HDB to our in laws home. The whatsapp response time was great and the on site survey of our items was done swiftly. On the actual day of the move, John, the team leader, executed the move very efficiently and safely. He exhibited fantastic leadership skills in organising his team for the move. The team, from start to finish (and unloading at the destination), took about 3 hours. The team was very professional, and had great attitude. All our items, including a piano, were packaged well, and shifted safely. We will highly recommend Soon Seng and John's team to anyone who is looking for movers. We will definitely use their services again when we next move!
Team of Peter, really good and professional. Even dismantle and reassemble furniture and wrapped with protection. No extra hidden cost, also assist to deliver dinner table that require dismantling and assemble to 2 locations. Peace of mind. Strongly recommended.👍
Team John is the best!!! They have the superb Service!!!
Kudos to Team Ryan & Terrence! Super fast and efficient teamwork! Moving done within a morning!
Amazing moving company. Shout out to Jolene and Jessie for being amazing at coordinating the move. Team XM for being so professional, punctual and reliable.
Thank you Team John! Professional and super efficient and fast, recommended!!!
Fiqsan Customs
2023-06-06
Super quick and careful service, no hidden charges. Very polite as well. Great service. Will use this service again in the future! Thank you for the service!
FAQ for Commercial & Office Moving
1. What is the difference between commercial and office moving?
Commercial moving refers to the relocation of an entire business, which may include offices, warehouses, retail spaces, or other commercial properties. Office moving specifically focuses on the relocation of office spaces, including furniture, equipment, and supplies.
2. How much does commercial and office moving typically cost?
The cost of commercial and office moving can vary depending on factors such as the size of the office, distance of the move, volume of items, additional services required, and any specialized equipment needed. It is recommended to request quotes from us to get a better understanding of the potential costs.
3. How can I ensure the safety and security of my sensitive or confidential documents during the move?
Our professional moving services understand the importance of data security and confidentiality. We provide specialized packing materials and secure handling procedures to protect sensitive documents during the move. It is recommended to discuss your specific requirements with us to ensure appropriate measures are taken.
4. What should I do with office furniture or equipment that I no longer need during the move?
Our commercial and office moving services offer post-moving support. We'll offer several options for office furniture or equipment that you no longer need. We can assist in disposing of them responsibly or storing them for future use.
Reliable and efficient transportation service for your office. Our professionals will customize your move with the specialized equipment required to safely relocate your office
During the relocation, documents, computers, phones may be inaccessible. Our customer service offers are available to plan and advise you on the most efficient way to ensure that the disruption is minimal during your move.
Moving and relocating should never be a tedious process. Our fuss-free process promises that your move will be completed at ease:
1) Call us at 6339 0039 / 6566 8212 for a free and non-obligatory quote.
2) If required, our professionals will head over to your office for a more comprehensive consultation.
3) Boxes provided for packing of items.
4) Inventory check with an inventory list
5) Our professional movers and packers will safely transport and relocate your items